Get support
Imagine you come from abroad for studying in Jena. Perhaps, it is your first day in a foreign country. After long journey, you finally arrive in Jena and get off the train. At the rail station, a tutor of our University is already waiting for you and accompanies you to your accommodation and is on hand with help and advice even in the following days and weeks.
Our offer
Reception at the rail station in Jena
Help with flat-hunting
Support at visits to authorities 
Introduction to the University procedures
Campus tour and help with general questions
The support from our tutors is free of charges.
*By clicking on the button, you leave the EAH Jena website and send information to third parties.
Are you studying at the EAH Jena, have been abroad for studying or doing an internship already? Perhaps, you are just interested in other cultures, want to improve a foreign language or get to know new people? Then apply as a tutor at the International Office and help your new fellow students to find their way in Jena and at the University.
Our offer
A versatile and varied task
Expansion of your intercultural competence
Training and mentoring
Financial allowance (at least 70 euros per semester)
Letter of recommendation
*By clicking on the button, you leave the EAH Jena website and send information to third parties.
---
Career Group – finding internships easily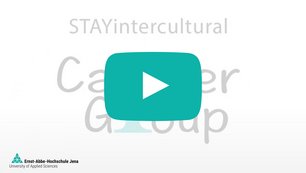 Are you looking for an internship or a company for your final project? Career Service and International Office offer you a special service, our Career Group. The Career Group supports with preparing your application documents and give hints on how to to find vacancies for internships or final projects. Kindly note that the Career Group consists of students of the EAH Jena and is not a placement service.
---
Counselling centres of Studierendenwerk
In Germany, it is not only at the universities and colleges that you can get competent advice and help with the most important questions and problems that student life entails. There is also a large network of counselling centres specifically for students. At Studierendenwerk Thüringen you will find almost everything that is not directly related to the lecture hall or laboratory, but is part of student life.
---