Optometry and Vision Science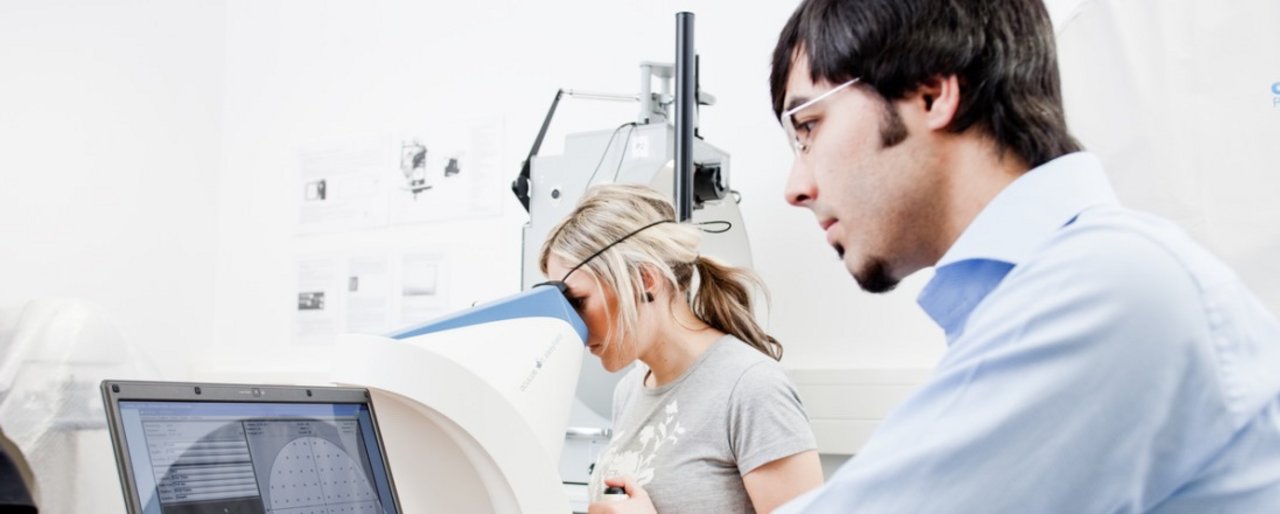 The lectures in contact lens technology and fitting extend over four semesters, including the practical semester. The accompanying practical courses deepen the knowledge of the lecture and complement it with practical tests of contact lens fitting. In the two rooms of the laboratory, students learn how to use the equipment and examination techniques required for contact lens fitting. Fitting exercises teach the skills necessary to safely handle contact lenses. Eight modern fitting stations are available, some equipped with video slit lamp, ophthalmometer, videokeratograph and refraction unit. Using PC-based video documentation, students can record slit lamp findings, as well as assess and discuss fitting characteristics (fluo image, movement, centration) of various contact lenses.
Educational content in the contact lens practicum includes:
Customer interview
Methods of topometry and ophthalmometry
Slit lamp examination techniques
Assessment of anterior segment findings
Classification of slit lamp findings
Fitting of soft and dimensionally stable contact lenses of different geometries
Contact lens care
Control of contact lens fit based on fluorescein image assessment
Tear film assessment
Control of contact lens parameters
Corneal examinations
Contact
Head: Prof. Wolfgang Sickenberger
Staff: Heike Hübner

The training contents in the practical course illumination engineering include:
Basic laws of illumination engineering (cosine law, Lambert's distance law)
Contrast measurements, e.g. on the Vistech panel with the luminance meter
Measurement of the illumination distribution in the room with the luminance measuring camera (with the luminance measuring camera LMK 98, for example, luminances in the field of view of about 50 degrees can be recorded and contrasts for selected objects can be determined with the aid of a computer).
Determination of brightness (luminance) of surrounding walls by means of illuminance meter and reflectance chart
Color management
Measurement of the daylight quotient for interior lighting
Modeling effect
Contact
Head: Dr. Carola Wicher
Staff: Steffi Butzke, Alex Look

The lectures and practical courses of the Low Vision module extend over one semester. Here, comprehensive knowledge is imparted on dealing with visual impairments, the technical aids, the optimal use of the visual test and the possibilities of rehabilitation. Transportable and stationary electronic and optical magnifying aids are available to students in the laboratory. Some of the screen readers are equipped with color display, automatic focusing and remote viewing capability.
In the practical course, many different types of magnifying aids can be tested to determine their parameters and to demonstrate the characteristics of use:
Handling of clip-on and magnifying glasses.
Handling and use of various screen readers
Incorporation of telescope systems into a carrier frame
Computer-aided selection of suitable magnifiers
Refraction determination with simulated visual impairment
Effect of contrast filter lenses
Parameter determination of magnifiers and reading glasses
Contact
Head: Prof. Dr. Michael Gebhardt
Staff: Steffi Butzke, Alex Look

Skills for objective refraction determination are taught in the Optometry module. The various methods for skiascopy are covered. A total of 14 practical training places are available for the practical exercise.
The content of the practical course is the determination of spherical and astigmatic refraction with the help of the skiascope. This includes:
Determination of the objective refraction on the phantom eye
Determination of objective refraction in a living eye
Contact
Head: Prof. Dr. Michael Gebhardt
Staff: Alex Look

The lectures in optometry extend over four semesters, depending on the choice of specialization, and are supplemented by corresponding practical courses. Based on the teaching of basic ophthalmic knowledge, a broad spectrum of optometric methods is presented in practice. One focus is the training in the field of binocular vision, its testing and correction. The complexity of the visual system and its correction theories are taken into account. Four laboratories with a total of eight modern equipped testing stations are available.
The training content in the practical courses includes:
Visual acuity determination
Refraction and correction determination for distance and near vision
Optometric function tests
Binocular vision testing (e.g. graphic analysis, integrative analysis, MKH)
Testing of various visual functions (stereo vision, contrast vision, color vision, etc.)
Correction of visual defects with specific findings, e.g. anisometropia, aniseikonia
Refraction and correction determination for screen activity and high visual demands
Optometric screening (ocular fundus, intraocular pressure, perimetry, etc.)
Wavefront analysis using modern aberrometers
Contact
Head: Prof. Dr. Stephan Degle
Staff: Steffi Butzke, Alex Look

This laboratory houses perimeters from various manufacturers, which are used for visual field measurement in the practical courses on the subjects of physiological optics and optometry.
The following experiments are performed in the practical courses:
Determination of the position and size of the optic disc
Kinetic and static perimetry with different devices
Contact
Head: Prof. Dr. Stephan Degle
Staff: Steffi Butzke, Alex Look

The lectures and practical courses on physiological optics extend over two semesters. Knowledge of elementary visual performance components, phenomena, visual effects, physiological processes in the visual system, color perception, visual field measurement, etc. is taught. Various experimental stations are available in a large and very modern equipped laboratory.
The following experiments are performed:
Assessment of color vision
Reaction board
Intraocular pressure measurement
Twilight vision
Testing of contrast vision (Buser test, Pelli-Robson charts, Vistech charts, Regan charts)
Determination of the position of the optic disc (blind spot)
Determination of the psychometric curve of the eye
Dependence of visual acuity on uncorrected ametropia
Perceptual phenomena on the Pulfrich pendulum
Contact
Head: Dr. Carola Wicher
Staff: Steffi Butzke, Alex Look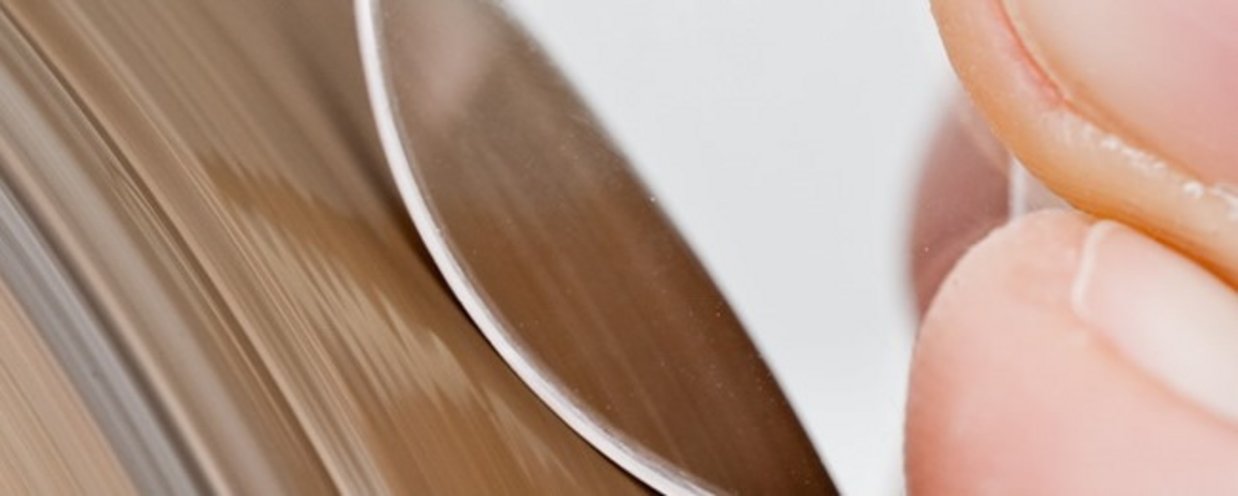 This laboratory is specifically used to practice the assembly and adjustment of magnifying aids, the final assembly of which is not performed by the manufacturing companies. In addition, the workshop offers all students the opportunity to consolidate their practical ophthalmic and precision mechanical skills.
Contact
Head: Prof. Dr. Michael Gebhardt
Staff: Steffi Butzke